Transfer Credit Report
The Transfer Credit Report provides students with a comprehensive view of their transfer coursework and how the coursework has been articulated to UMBC. It is located on myUMBC under the student profile. Each student's report is broken down into two sections:
Course Credits – Courses taken from another academic institution; each academic institution is listed separately
Test Credits (Prior Learning) – Credit received via Advanced Placement (AP), International Baccalaureate (IB), College-Level Examination Program (CLEP) exams, and DANTES
Students can see how their transfer credit has been applied to their major, minor, certificate, general education, and graduation requirements via the Degree Audit advising tool, also located on myUMBC under the student profile.
Understanding the Transfer Credit Report
Next to each course on your Transfer Credit Report, you will see one of three possible statuses: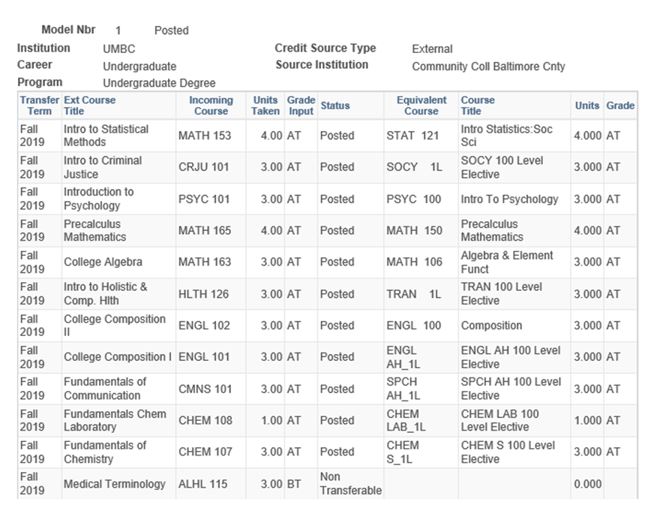 Posted – The course has been articulated and applied to your academic record, and is reflected on your transcript.
Non Transferable – The course is not transferable to UMBC.
INFO NEEDED – In order for the course to be considered for evaluation, more information is required. Students should submit course syllabi, along with a completed Course Review form to the Registrar's Office via DocuSign.
Coursework can transfer as direct equivalents, general education electives, electives, and transfer electives (TRAN).
For more information, see Interpreting Transfer Credit guide.